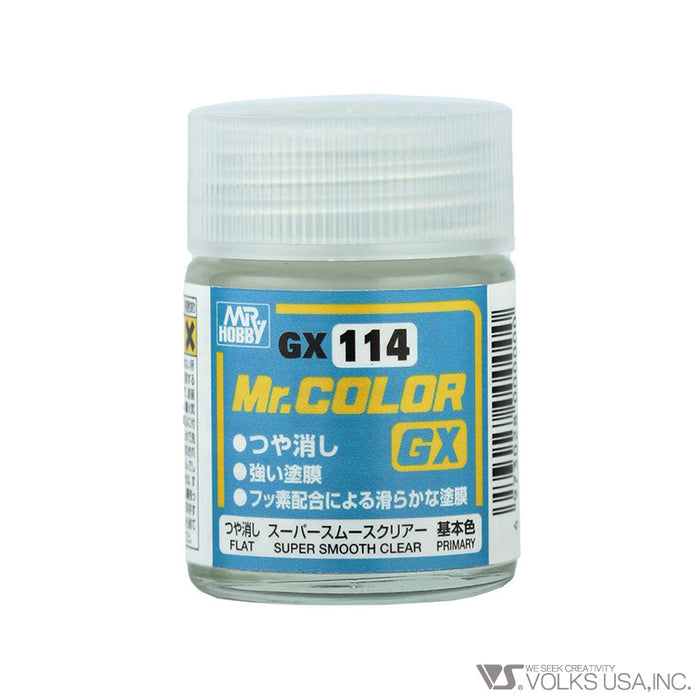 Mr. Color GX114 Super Smooth Clear Flat
Sold out
Original price
$0.00
-
Original price
$0.00
Hazardous Material
This item is a flammable item that can only ship by surface within the continental United States. For more information please see our Shipping Policy
Availability:
Out of stock
SUPER SMOOTH CLEAR is a new clear flat coating lacquer developed with a concept which is "Make a coated film with clear flat be smoother!"
Thanks to containing fluororesin, this is able to coat smoother than the original one does. Compared with the original (C182), particles of the additive for flat are tinier as it completely covers a surface without white blurring. and the texture feels moist. Even if you apply it on molding color, it makes a model look as fully painted.
Plus! Smoother coated surface will reduce friction resistance.
- Reduce scratch of parts due to posing.
- Have an innovative function that can smoothen motion of parts.

For finishing your precious work, we strongly recommend to use this innovative high grade clear flat coating.
---
[Important Notes]
For ages over 15.
ALWAYS use any aerosol sprays in a well-ventilated area, preferably outside.
We also recommend wearing a mask to avoid breathing the spray.
You may also choose to wear gloves if you have a history of skin reactions and we recommend washing skin after contact.
This product is highly flammable. Please keep it away from open flame and excessive heat. Handle with care.
Keep out of reach of children.
Do not puncture.
The item pictured is a sample. Please understand the items included may change and the actual product may vary.