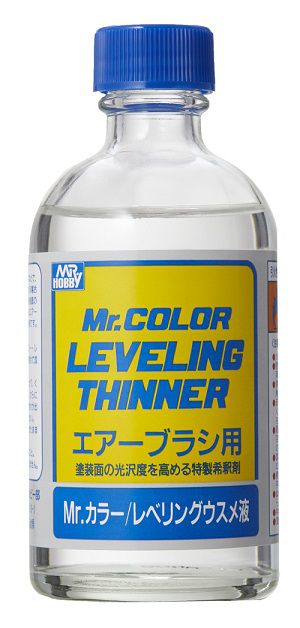 Mr. Color Leveling Thinner 110ml (T106)
Original price
$0.00
-
Original price
$0.00
Hazardous Material
This item is a flammable item that can only ship by surface within the continental United States. For more information please see our Shipping Policy
Availability:
in stock, ready to be shipped
Mr. LEVELING THINNER is excellent for spray (airbrush) applicators.
Mixing Mr. LEVELING THINNER into Mr. COLOR at a ratio of 1:1 or 1:2 improves coat leveling and increases shine. When drying is slow because of insufficient air current during winter months, it is best to mix Mr. COLOR THINNER into Mr. LEVELING THINNER.
The mixture will be dry to the touch after a period of about 10 minutes.
---
[Important Notes]
For ages over 15.
ALWAYS use any aerosol sprays in a well-ventilated area, preferably outside.
We also recommend wearing a mask to avoid breathing the spray.
You may also choose to wear gloves if you have a history of skin reactions and we recommend washing skin after contact.
This product is highly flammable. Please keep it away from open flame and excessive heat. Handle with care.
Keep out of reach of children.
Do not puncture.
The item pictured is a sample. Please understand the items included may change and the actual product may vary.