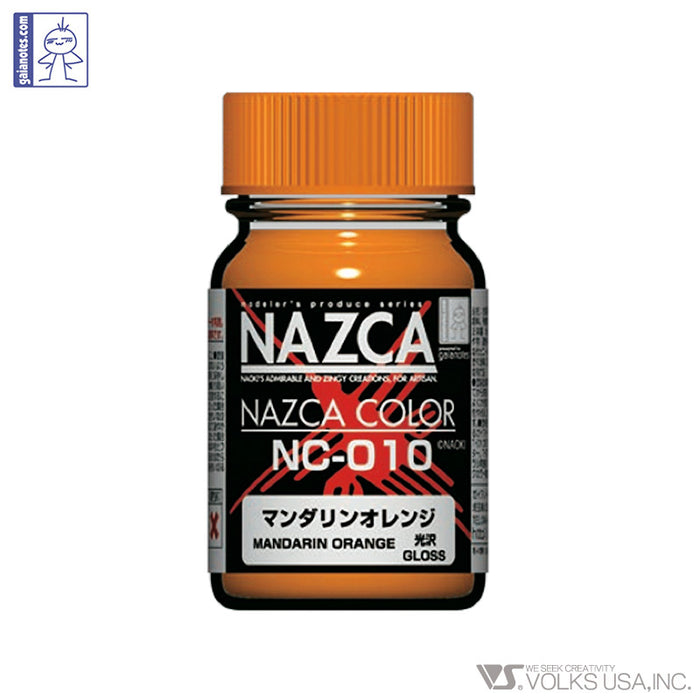 Gaianotes NC-010 Mandarin Orange
Original price
$0.00
-
Original price
$0.00
Hazardous Material
This item is a flammable item that can only ship by surface within the continental United States. For more information please see our Shipping Policy
Availability:
in stock, ready to be shipped
 [Product Description]
These colors are designed and mixed by pro-modeler NAOKI. These refined colors are practical and easy to use.
Before application, remove mold release, oil, dust, etc from your desired surface.
Please mix well before use for best results.
Change your Gaia Notes Thinner depending on your application. T-01 Thinner, T-06 Brush Master(Self-Levelling), T-07 Moderate Thinner (Reduced Odor), or T-09 Metallic Master (Metallic Color Thinner)
Gaia Notes Lacquer based paints are formulated in Japan specifically with the hobbyist in mind.
These paints are highly pigmented, and their rich, vibrant colors will bring excellent details to your next project.
Paint Type

Lacquer

Volume

15 ml (0.5 oz)
For ages over 15.
You may also choose to wear gloves if you have a history of skin reactions and we recommend washing skin after contact.
This product is highly flammable. Please keep it away from open flame and excessive heat. Handle with care.
Keep out of reach of children.
Do not puncture.
The item pictured is a sample. Please understand the items included may change and the actual product may vary.