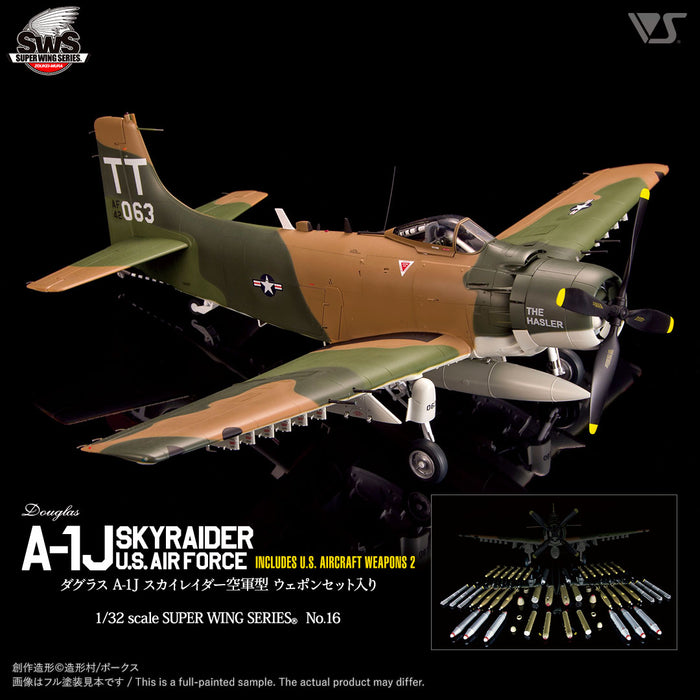 1/32 A-1J U.S. AIR FORCE Includes U.S. Aircraft Weapons
Original price
$152.00
-
Original price
$152.00
description

Description

info

Product Details

warning

Important
Now you can get your A-1J with its weapon set included!!
For a specially discounted set price! Released with brand-new box art!!

No major modifications were made from the A-1H to the A-1J, and both the wing folding mechanisms and arresting hook remained unchanged.

Changes made for the Air Force type mainly impacted the antennas, with the UHF blade antenna being added to the rear of AN/ARN-6 radio loop compass antenna and the FM622 whip antenna behind the cockpit. 

There were also Skyraiders that had a VHF/FM antenna (commonly called the "towel hanger") on the fuselage underside immediately behind the air brake, and a blade antenna just in front of the anti-collision light (ACL) on the tip of the vertical stabilizer.

Also, taking the unpaved runways of Southeast Asia into account, a larger wheel was installed on the rear landing gear assembly, and the main landing gear assemblies were converted into single-piece types.

Additional features included the taxiing lights on the underside tips of both right and left main wings, as well as the "Yankee Extraction System" that was missing from earlier model Skyraiders. Of course, all of these features are fully recreated for the SWS A-1J.

When telling of the Vietnam War, this aircraft simply cannot be overlooked, with its heroic figure painted in the three colors of the characteristic SEA scheme. We certainly hope that you will recreate it atop your table through the SWS kit.

Main wings can be folded. The main wing folding system includes brass and polyester parts.

[Limited Bonus]

This special kit contains both "A-1J Skyraider" and "Weapon Set 01"!

SWS 1/32 A-1J U.S. AIR FORCE
SWOP 1/32 A-1K Skyraider US Aircraft Weapons

Scale

1/32

Product Specification

Plastic Model Kit

Total Parts

344

Manufacturer

ZOUKEI-MURA

---

Download the manual for SWS A-1J Skyraider

This product is intended for ages 15 and up.
This product has sharp edges in its design. Please be careful when handling this product.
Glue is required for assembly.
The photo shows a finished sample. This product is unpainted assembly kit.
The item pictured is a sample. Please understand the items included may change and the actual product may vary.