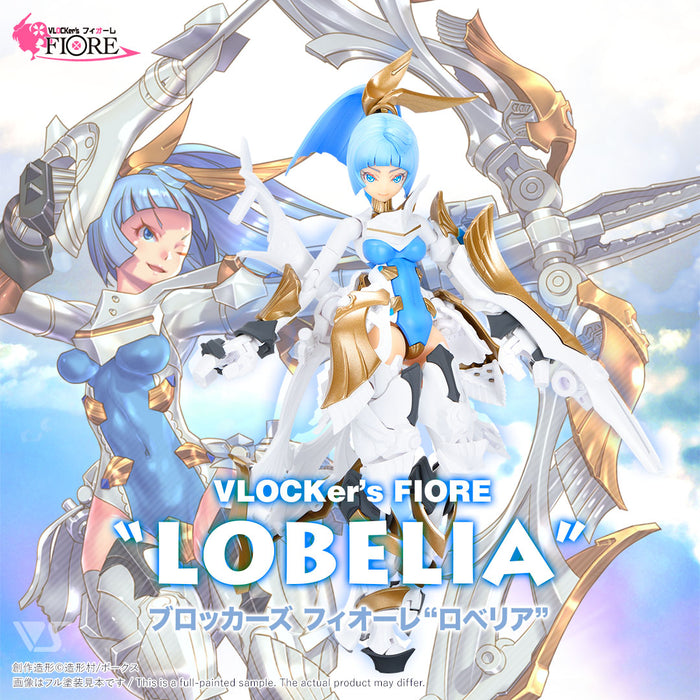 VLOCKer's FIORE LOBELIA
Original price
$66.00
-
Original price
$66.00
Availability:
in stock, ready to be shipped
Blessed from the heaven, the azure knight rises!
description

Description

info

Product Details

warning

Important
Following the VLOCKer's FIORE "Achillea" & NEXATE "Equus" comes the second VLOCKer's with the theme of "Knights of the Celestial World"!
Simultaneous release of FIORE "Lobelia" carrying a bow and her partner "Cheval" with two guns! The two can be reconfigured into the human-horse form "Sagittarius Mode" by merging them together!

The new character in "Knights of the Celestial World" is "Archer"! She appears cool in pure white armor!
The new FIORE "Lobelia" is clad in blue and white as her main colors. The design is reminiscent of a fantasy world, and the curvaceous armament reproduces the "Knights of the Celestial World" running lightly on the battlefield.
The new FIORE is a leader-like figure with a crisp design reminiscent of "excellence" in the language of "Lobelia. The face parts, which are the charm of FIORE, were drawn by "Mitsunari Tenpu," who was in charge of the character design!

VLOCKer's FIORE Lobelia (fully equipped)
The fully equipped state is completed by attaching white and gold additional equipment to "Lobelia" in her bare body state!
You can enjoy the asymmetrical archer-like form formed by the chest armor and arm armor with a design that protrudes to one side, and the curvaceous lines created by the waist armor and thigh parts, which are unique to Lobelia!
The "bow" is connected by a 4mm joint and can be reassembled by parts! You can freely create your own original armament!

Lobelia x Cheval = Human-horse form: Sagittarius Mode complete!
Lobelia and Cheval will combine to complete their human-horse form "Sagittarius Mode"!
From the design stage, the figure was developed and designed with "combining" in mind to achieve a realistic horse-like silhouette. Flexible posing can be enjoyed even in the human-horse form!
In addition, the weapons of "Lobelia" and "Cheval" can be combined to form a "Ballista"!
The "streamlined body line" and "large long-range armament" contrasting with the gussied-up "Achillea" are attractive!

Kit Size

Non-scale (Height: Approximately 175 mm / 6.9 in)

Joint Size

4 mm (0.16 in)

Includes

Pre-printed face part x 4
Eyes and marking decals

The photo shows a full-painted sample. The actual product may differ.
The item pictured is a sample. Please understand the items included may change and the actual product may vary.
This item is intended for collectors older than 15 years of age.
Please read through the "instruction manual" before you start assembling.
In order to faithfully reproduce the model, this item may contain pointed parts. Please be careful in handling.
*Choking Hazard* This item may contain small parts.
Please do not cover your face or head with the plastic bag that contained the parts. There is a risk of suffocation.
This item is made to precision. It can be damaged by dropping or bending toward the unreasonable direction.